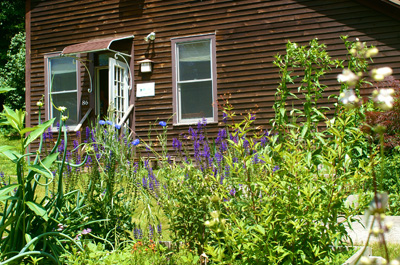 The practice is located at
86 Henry Street
Amherst, MA 01002
From I-91 from the South:
Get off of I-91 at exit 19, Route 9. Travel East on Route 9 about four miles. Take a left onto Route 116 North. Go 3 1/2 miles on this road until you get to your first light. Turn right here onto Meadow Rd. which becomes Pine Street at the next light. Continue as from the asterix in the North below.
From I- 91 from the North:
Take exit 25 in Whately/S.Deerfield and turn left at end of ramp, then, after .2 miles turn right onto 5/10. After .9 miles turn left onto 116 South. On 116 S. go just over 6 miles, thru Sunderland, then turn left at the first light after Annie's Garden Center ( on your left) onto Rt. 63. Continue thru the next light where the road becomes Pine Street.
*Continue on Pine Street 1 mile until you come to a strong curve in the road. At this curve/fork, bear RIGHT staying on Pine Street. (DON'T take Market St,) You will immediately pass the blue Cushman General Store on your right, go over RR tracks – and the road will end. This is Henry Street, turn left. #86 is immediately on the right.: brown house and barn. Enter in the barn. You may park just past here on the right.
From Route 2 driving West from Boston:
Drive Route 2 until you get off at the exit for Route 202 South (you will have seen signs for 202 north some miles back). Take 202 South about 15 minutes, until you see a green sign saying "to 116" This is Amherst Rd. and there will be an old white church at this corner with an stone wall around it. This is the town of Pelham. Turn Right at this sign and drive five miles until you get to your first light. Turn Right at this light and drive about 3 1/2 miles until you see a sign for Pine Street on your left. Do Not turn here. Continue on and look for #86 on your right. You may park just past here on the right or left.